It's that time of year when parents are both crying about the first day of school for their Kindergartener and in relief that the summer is finally over. Either way, back-to-school is hectic getting back on a schedule filled with making lunches on the fly, making sure everyone has what they need, and corraling them to school on time. This stress can take its toll on moms and they need a way to stay sane during the madness.
These are three ways that I have found to help me during stressful times in my life, like back-to-school traffic.
Three Ways to Get Your Back-to-School Grove On
Yoga
Exercise has been shown to cause your body to release endorphins and make you feel happy happy. I, however, am not the biggest fan of running around and getting all sweaty. Air conditioning and I are best buds. Therefore, I prefer to get my exercise on in front of the television.
If you don't have the ability to get YouTube videos streamed through your TV, search on Pinterest for blog posts about yoga and look up a couple easy poses you can contort your body into. If none of them suit you, just lay on the floor and pretend you are doing the corpse pose.
Take a Personal Day
After you have wrangled all the kids to school, call in to work and tell them you are feeling sick and don't want to give it to anybody.  Then head over to the nail salon and get a mani/pedi. I would suggest getting just getting a clear coat on your hands or you might tip a coworker off the next day that you didn't spend the day in bed.
Another glorious idea is to get a massage. I would give my right arm to get a massage right now, actually.
Lying on a cushy table while someone rubs me down and not a child screaming or husband nagging in sight.
I think I am going to take a personal day soon.
Get Some SLEEP
Arianna Huffington has decided to leave the news giant bearing her own name to focus on a new website about health and wellness. She wrote an entire book about the virtues of sleep. I think we can all agree, getting enough sleep is beyond spectacular.
Melatonin is a hormone that our body produces in response to low levels of light and promotes sleeps. If your melatonin levels are low, you might experience insomnia or have trouble falling asleep.
Natrol has two ways for you to get the melatonin your body needs to get healthy, rejuvenating sleep.
Natrol Fast Dissolve Melatonin is available in several doses depending on how much you need.  I would suggest starting at the 5 mg dose and work your way up or down.
It comes in strawberry flavor, and it doesn't taste medicinal. Which is good considering it's dissolving in your mouth for a few minutes.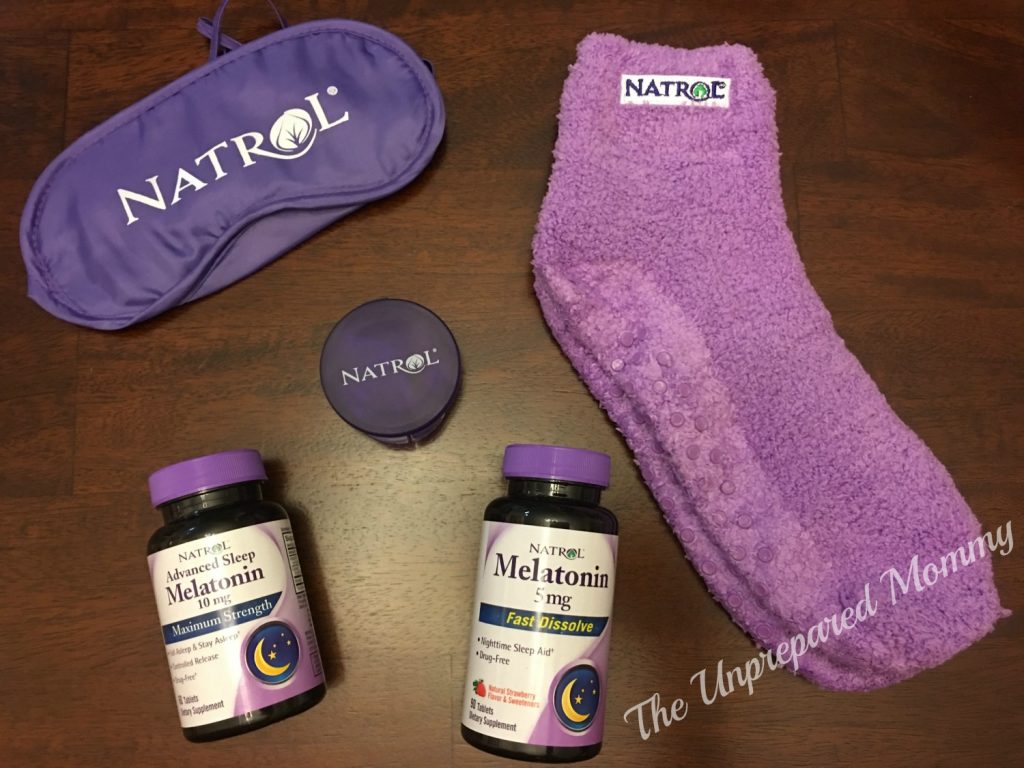 If you find this isn't quite getting the job done, the Advanced Sleep Melatonin is the one for you. There are two layers, one that quickly dissolves to help you fall asleep and the second dissolves slowly over the night to help you stay asleep.
Natrol Melatonin is 100% drug-free and not habit forming. Unless, of course, you like sleeping consistently. But even if you don't, it will not cause you to rely on taking it to snooze. It is a hormone your body naturally uses to regulate your sleep patterns.
So as you trudge through the next few weeks of getting back-to-school, remember that you still need to take care of yourself, too. You are no use to your family if you are stressed out and exhausted.
I also recommend investing in a case of wine.
Related Back-to-School Posts: