Sending your kids off to summer camp sounds like fun, until you realize how much stuff you need to send with them! How are you going to make sure they don't forget it all when you pick them up?

Name Bubbles has these amazing Custom Camp Labels that are designed to be extra durable to withstand all of their amazing camp adventures.
Just yesterday, my darling son informed me, on our way home from school, that he forgot his water bottle in his classroom. Which isn't too surprising, seeing as this is the third water bottle that we have purchased for him. Why? Because he has left multiple water bottles at various locations throughout the school year.

However, this time, I didn't have to purchase a fourth water bottle. Having a Name Bubbles custom label on it means he went back to class today and was able to find it with no problem. And he didn't have to worry that another child had taken it and claimed it as their own.
Name Bubbles doesn't just have labels for water bottles. Their press and stick clothing labels are fantastic for all the camp shirts they will wear. These clothing labels are designed to go on either the clothing tags or the brand imprint on tagless clothes. They do not fade or peel off from the continuous washing and drying you get to do after they get them super dirty.

A more permanent option is their iron-on clothing labels. I'm really glad they offer these because you can even use them on cloth face masks. I will be bringing multiple masks each day to camp for my son because I know he is going to get them filthy with dirt, paint, food, or a combination of all three.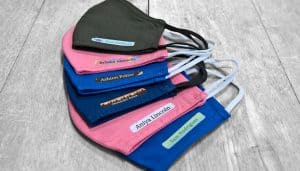 From alligators to unicorns, their labels come in so many different styles, you won't have any trouble finding ones your children love.
Another type of custom label I think is super important to have are medical alert labels. They are large enough to include your child's entire name, what their medical condition is, be it a peanut allergy or they are diabetic, and both parents' phone numbers.
Speaking of larger labels, if your child goes on a field trip and accidentally leaves their stuff there (lunchbox, water bottle), Name Bubbles contact labels are perfect. You are able to add three extra lines of text to provide a phone number or even an email address.
Now I only have to worry about one child. I can only imagine what it takes to keep account of multiple children's property. Especially if I had two or three kids that loved the same superheroes. Or better yet, babies who have multiple pacifiers at daycare.
I feel so much better knowing that my son can put on really cute labels on his stuff that he likes and that I can make sure he never loses. Well, can get back after he inevitably forgets in his haste to go home.