With more than 25 resorts and resort hotels located on the Walt Disney World property, amenities tend to get a bit confusing. For many guests these amenities are simply surprise perks. But, if you're someone who books accommodations based on the extras, this information is just for you.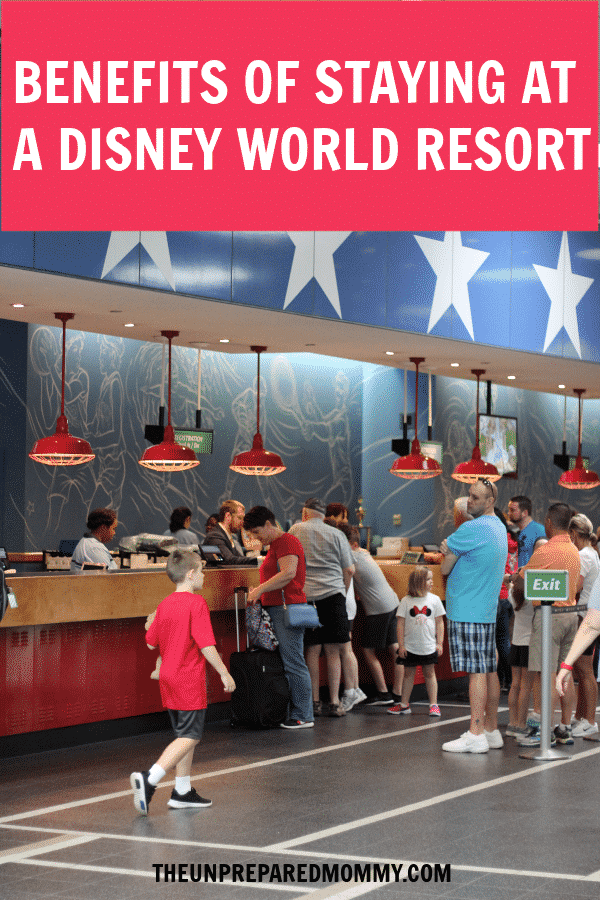 Please note. This post is a very basic overview of Disney resort amenities. It's impossible to cover everything in an article of this length. Check with each individual resort, to learn more of what it has to offer. These are seven benefits of staying at a Disney resort.
Disney's Magical Express
Booking airport transfers can sometimes get a little confusing. But, not with Disney's Magical Express service. You receive arrival and departure motorcoach transportation to Orlando international Airport.
If you choose to fly a participating airline and stay at certain Disney resorts you're automatically enrolled in Resort Airline Check-In. This service lets you totally bypass traditional airport check-in, which saves time and frustration as well.
In-Room Celebrations
Make your get Disney World vacation even more magical with an in-room celebration. These add-on packages include general welcome celebrations, a birthday celebration, romantic celebrations and themed celebrations such as Christmas, Halloween, Frozen, Star Wars, Princess and Pirate's Adventure.
Purchasing one of these celebrations means your room or suite will be decorated, upon arrival. You'll also find treats and souvenirs that fit right in with the occasion. Let the party begin!
Disney Water Transportation
No trip to Disney World is complete until you enjoy cruising or sailing on the local waterways. It's much more adventurous than other types of transportation, don't you think?
Enjoy a ferry ride or water taxi to and from locations including Epcot, Magic Kingdom, Disney Springs and Hollywood Studios. Other popular options include cruising around Crescent Lake and sailing around Seven Seas Lagoon. Ahoy, Mateys!
Merchandise Pickup and Delivery
There is a seemingly endless supply of shops and boutiques at Disney World. Don't let the thought of dragging your purchases around all day stop you from going on a fun shopping spree. Merchandise pickup and delivery to the rescue!
This service is available in-store at a wide variety of select Disney World merchants along with merchandise in stock, purchased through the "Shop Disney Parks" mobile app. It's never been easier to pick up souvenirs for friends and family back home.
Bus Transportation
It's entirely possible to travel almost anywhere by bus around Walt Disney World. This transportation is complementary when you stay at one of the many DW resort properties. All buses operate at approximately 20-minute intervals. So, there's never a long wait. No alcohol or luggage is allowed on these buses.
Childcare Services
The majority of resorts at Disney World offer in-room babysitting and/or children's activity centers. The price-per-hour for both options depends on the number of children participating. Activities include age-appropriate arts and crafts, board games, movies and more.
Disney Fine Art Photography
Capture timeless memories of your magical Disney World vacation, by scheduling a photography session with a professional photographer. There are several different packages available, one to fit almost every budget.
Whether you choose a mini portrait session with Cinderella's Castle in the distance or a deluxe family portrait package it's the perfect way to capture magic moments without taking the time to snap the photos yourself.
These are just a few of the amenities offered at Disney World resorts. For up-to-date information it's wise to contact the locations you're most interested in, before making your final accommodation decision.
One thing is for sure. Whatever resort you choose, your family will never forget the fun they had on their Disney World vacation. Get ready… get set… start planning. Mickey and Minnie are waiting for you!
Related Posts:
Disney World for Kids Who Don't Like Rides
How To Save Money On A Disney World Vacation
Disney World Hacks You Have to Try!