With so many options to buy something for your younger child for the holidays, it's hard not to narrow down your choices. This holiday gift guide for preschoolers will help you find the perfect toy that they are just going to love.
Holiday Gift Guide 2017
Fisher-Price Think & Learn Seek & Spell Penguin
This cute penguin helps preschoolers learn about letters, phonics, and spelling while making it a fun game. Press his "spellybutton" and jump him onto a letter to hear silly sounds, songs, and phrases. They will learn new facts about the letter while testing their auditory memory and attention skills.
Play-Doh Kitchen Creations Magical Oven 
Let their imagination run wild with this Play-Doh Magical Oven. "Bake" cakes, cookies, or anything they can imagine. Make make-believe pizzas the whole family can enjoy. The white light changes to red in the oven to indicate it is heating up and dings when the food is "ready."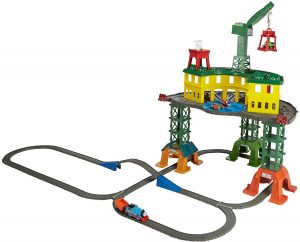 Fisher-Price Thomas & Friends Super Station Playset
This amazing Thomas & Friends train set can be configured into multiple layouts.  It comes with Thomas, Percy, James, and Harold to start, but it's also compatible with Thomas & friends adventures, Track Master, and MINIS and can hold over 100 engines. The legs can be removed to accommodate smaller spaces, if needed.
Enchanting Princess Big Box of Games
The Enchanting Princess Big Box of Games contains a memory game, BINGO, a spinner game, and dominoes.  These would be great for family time during the holidays.
K'NEX Kid K`Nex Budding Builders Tub Building Kit
With 50 building ideas and 100 pieces to work with, your preschooler will have hours of fun creating designs with this Building Kit. Building these models helps preschoolers developmentally by strengthening their hand-eye coordination, problem-solving skills, and fine motor skills. It is also a great STEAM (science, technology, engineering, arts and math) activity that sets them up for more STEM/STEAM games as they get older.
Educational Insights Design & Drill Robot
Another great STEM toy is the Educational Insights Design & Drill Robot. Preschoolers can snap the arms together and practice drilling in the bolts around its body with a child-friendly screwdriver (more fine motor skills.)
Woodpeckers Wooden Doll People
These wooden doll people are great for your kid's imagination in two ways. One, they get to decide how they want to paint the people. They can paint Superheroes, Disney princesses, or my favorite, Harry Potter characters, if they wanted to. Then, they get to play with them as the characters they chose to pain them.
My love of Disney World may have colored my next pick. I have found a ton of awesome custom-made Disney ears that will just blow your mind. Want to be an evil Queen? How about Maleficent ears. Love Disney AND Christmas? Get the Holiday ears. Sometimes it's hard to find the perfect pair of ears at Disney, so why not get them before you even go!
DIY Building Block RC Drone Fly n Drive Combo
If you have made it this far, you are in luck! I am giving away one of these DIY Building Block RC Drone Fly n Drive Combo from Force Flyers. It comes with detailed directions on how to put together both the drone and the car separately, but your kids can make their own designs (see how I keep going back to STEM/STEAM?). Mom or Dad are probably going to need to fly it, but I know my son has just as much fun whether he flies it or not.
From November 13th through 26th, you can enter the giveaway multiple times through Twitter and referring friends to enter.