Who wouldn't love getting these Love Monster Valentines cupcakes for Valentine's Day?! They are super easy to make and fun to eat. Have fun with different sized edible eyes or make the "fur" extra long. These Valentines treats are sure to show your loved ones that you care. Do you have any special Valentine's Day cupcake ideas of your own?
Love Monster Valentines Cupcakes
Ingredients
8 Strawberry Cupcakes, unfrosted
1 can Vanilla Frosting
16 Edible Eyes
Toothpicks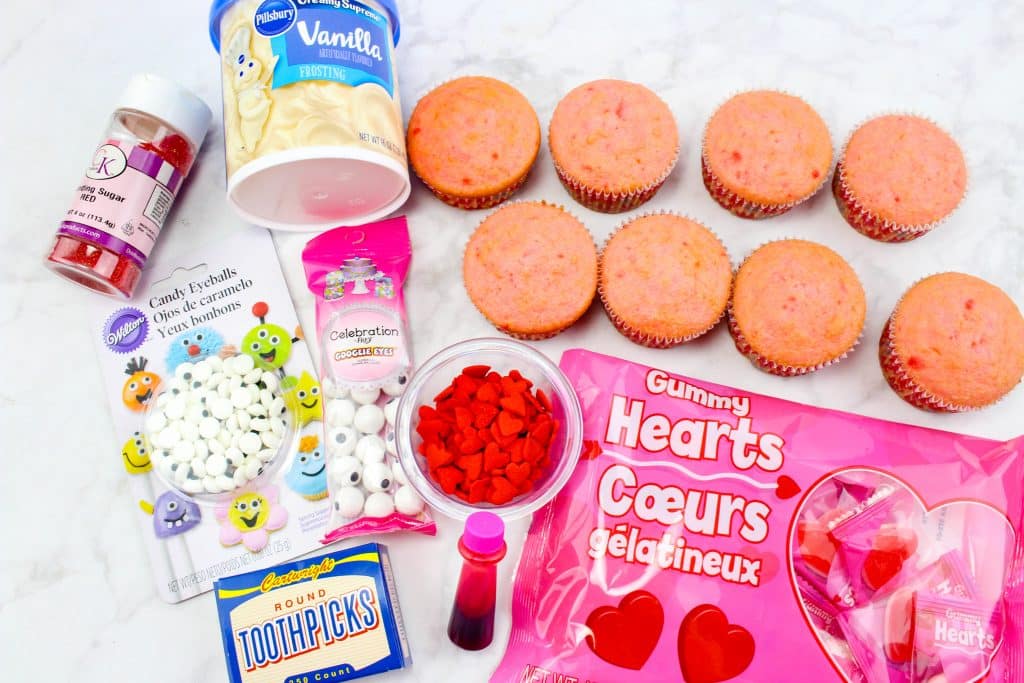 Directions
First poke a toothpick into each of the gummy hearts so the heart is at the top of the toothpick.
Color half the frosting pink and leave the other half white. Put each color into a piping bag with a star type tip and as you pipe on dots of frosting, pull up with the bag so it looks like ragged fur on a monster. If you don't have a piping bag, you can use a knife and frost them messy, and pull up the same way. Frost some white and some pink.
Poke 2 of the toothpick hearts into the top of each cupcake to one side to look like monster ears.
Place 2 eyes and a little heart nose on the top, front side of each cupcake.
Sprinkle red sugar on each white frosted cupcake.
Super easy and fun treat for Valentine's Day parties!
For Valentine's Day crafts and activities: