As a parent, you know that the way you handle your children will have a deep effect on them. After all, you're their role model and they will tend to imitate everything you do, the good and the bad. There are several different types of parenting that most people can easily identify, but I am going to discuss the authoritarian, permissive, and positive parenting styles and see if you can determine the best parenting style of the three.
Parenting Styles
Authoritarian Parenting Style
Authoritarian parents believe children are inherently self-indulgent and strong-willed. Unhappiness and bad behavior are believe to stem from this willfulness. They deem obedience to a higher authority of the utmost importance. Strict rules are enforced without question and punishments are administered when they are broken.
Children who grow up in an authoritarian household can have low self-esteem because they never learned to value their own opinion. In addition, they may find social situations difficult because they were only shown how to respond to authority figures and not their peers.
Though authoritarian parenting can foster orderliness, it leaves little room to cultivate autonomy. Kids need to learn there is a balance between obedience and indulgence.
Permissive Parenting Style
You can see permissive parents as the exact opposite of authoritarian parents. They do everything they can to avoid confrontation, they are lenient, and they believe that unless the child enjoys doing an activity there's no need in keep pressuring them to do it.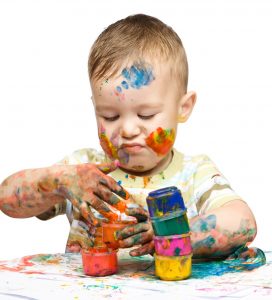 Unlike authoritarian parents, the permissive parents are very concerned with their child's self-esteem. They keep encouraging them even if they fail their goal. These parents will also make sure to value each one of their kids individually. So, they will be the first ones to back them up no matter what they choose to do with their lives.
Obviously, each parenting style has their own advantages and disadvantages. While the authoritarian parents tend to focus too much attention on obeying authority, permissive parents tend do only look for the personal part, for the feelings.
Positive Parenting Style
Simply put, Positive Parenting implies developing a deep relationship between the parents and the child that is based on mutual respect and communication. It's about teaching your child not only with the what but also with the why.
Positive Parenting has 3 main components:
– Parents should help their children internalize discipline. Instead of making the child obey, they will teach the children on how they can have self-discipline; within a set of rules and consequences.
– All the rules and consequences parents established are laid out. They're not hidden from the child and they are always followed. Discipline means, "training to act in accordance with rules." It does not mean to punish because the rules were not followed.
– Parents try to understand their child's thoughts by closely listening to them.
As parents are the role model, there are some principles that their relationship needs to follow:
Attachment
Children are emotionally connected with their caregivers. And this is why attachment is so important since it's a secure and deep emotional bond that is created. When children feel safe and loved, they will be more enticed to grow and learn properly. When the attachment is present in the relationship, the child will be a lot more likely to listen to the parent and accept the boundaries.
Mutual Respect
The same way parents want to have the respect of their child, this also works the other way around. You're showing respect for a child when you have a positive attitude and behavior, when you don't shame her, or when you let the child explore the world at her own pace.
Being A Proactive Parent
Most parents usually wait for a problem to arise to then take the necessary actions. However, a better way to handle parenting is to actually be proactive. You know your child is going to get angry. You know that he might bite or hit a friend. So, before that happens, you can try to explain to him what anger is and show him different ways to respond to it in a calm manner. Practice these situations together so they are prepared for when they actually happen.
Being Leaders
Parents need to be the leaders, not the dictators. And empathy plays a huge role here. When you show empathy, the child will recognize you are on his side, and they will easily accept leadership.
Positive Discipline
Children need to know the difference between the right and wrong. However, when they do something they shouldn't, instead of physically punishing them, try problem-solving instead. This means that instead of grounding them, you should explain her and make her feel accountable for what she did. Explain to her what she did wrong, why, and how she could have done it. This way, she will actually be learning from her own mistakes.
To recap, authoritarian style parenting forces the child to obey their parents to curb their willfulness, permissive parenting encourages willfulness by allowing the child to do as they please so as not to create discourse in the family. And finally, positive parenting creates rules that the child needs to obey, but does not dole out harsh punishments as consequences and helps the child learn how to behave in a much kinda environment. I think it would be easy to tell which is the best parenting style to utilize.
The reason you should care is because the parenting style you choose will have a lasting effect as the child grows into an adult. Not only socially, but actually mentally because of changes in brain structure.