Imagine you've been stuck in a meeting for hours. You might feel the need to shake your leg, click your pen, or doodle to keep focused on what is discussed. Now imagine how children must feel sitting at a desk all day with almost no outlet for that pent up energy.
Whether your child has sensory issues or not, they still have a sensory system. And when you disregard those needs, you tend to see it manifest as unwanted behavior. If you can redirect their behavior in positive ways, you will find they can focus much more often.
*This post contains affiliate links.*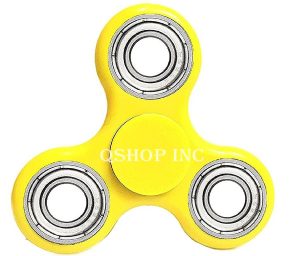 I realize that fidget spinners have become very popular recently and I am not going to get into the debate of their "scientific effectiveness." I will say, I have the Krazy Spinner fidget spinner and I can see the appeal. When my son isn't playing with it, I have found it quite useful for myself when I am trying to focus on something. The Krazy Spinner brand fidget spinner offers up to 2 minutes of constant spinning and is very quiet because of the high-quality bearings they contain. I'm sure the teachers in school that haven't banned their use would appreciate that. Fidget toys, like this, tend to be a lot quieter than clicking a pen over and over, too. During the summer, they can make fidget spinner art.
Another way to focus the energy of your fidgety child is the desk fidget tool from The OT Toolbox. It is a very simple do-it-yourself that they can in one hand to push the beads back and forth and calm those twitchy hands.
A no-sew mermaid fidget bag from Lemon Lime Adventures offers a two-fold benefit in that it can hold fidget toys for kids within it and the outside fabric of the bag is itself helpful for fidgeting.
When they are bouncing around in their seats, try a weighted pillow, also from Lemon Lime Adventures. I made one, per her suggestions, using this mermaid pillow case and marbles and let my son go to town. He loves to pet it, back and forth. The other benefit is that the extra weight in the pillow gives him proprioceptive input he needs to reduce his need to keep bouncing around.
Have you heard of sensory bins? They are a great way to engage your child's brain while giving them sensory input. These Quiet Bins ebooks from Sarah Nottle of How Wee Learn provide simple (and cheap) ways to do that. Buying 9 items from a dollar store that can provide 30 different ways for my son to entertain himself? Sign me up! He loved making the pipe cleaner glasses. I can also give him directions for any activity and then I've got at least 20 minutes to myself, win-win.
As I mentioned, I am not going to tout any scientific evidence for or against fidget spinners and the like because I haven't read it all. I WILL say, that as an adult with ADHD, I understand the need to keep my hands busy when I'm trying to do something I need to focus on. And just sitting in a meeting at work, I can see most people need to do the same thing. So why not get something that will help your fidgety child redirect their behavior and get the sensory input they truly do need.
Related posts: