Seeking out characters, to get their autographs, is a long-standing Disney tradition. Keep reading, to learn more about some of the best places to get your favorite Disney characters autographs.
Disney Characters Autographs
Mickey Mouse
It just wouldn't be a trip to Walt Disney World if you didn't get to meet Mickey Mouse. Fortunately, there are a number of places throughout the various parks to touch base with the famous rodent.
In the Magic Kingdom, Mickey often hangs out at the Town Square Theater greeting park guests. You can also occasionally find him outside Mission Space at Epcot, wearing a spacesuit or at Disney's Hollywood Studios sporting his iconic sorcerer's robe. Keep your eyes open as you wander through all the different areas of WDW. No one really knows when and where Mickey will make his next surprise appearance.
Winnie the Pooh and Friends
Many of your family's favorite characters from Hundred Acre Wood can be found scattered in various Walt Disney World locations. At the Crystal Palace, for example, make plans for the kids to attend a buffet with Tigger, Piglet, Eeyore and Winnie the Pooh.
These same characters can also sometimes be found in Fantasyland near their own attraction. Tigger and Winnie the Pooh are known to spend time in the United Kingdom section of Epcot's World Showcase, which features other popular Disney characters from English literature like Mary Poppins and Alice of Wonderland fame.
Aladdin
If you look near the Magic Carpets of Aladdin ride in Adventureland, you'll likely run into Aladdin and Jasmine as well as the villainous Jafar. They also frequently visit the Morocco section in Epcot.
Woody
The best place to find Woody from Toy Story fame is alongside his pal Buzz Lightyear (and the occasional green army man) in Pixar Place. In addition, you can sometimes find Woody greeting guests as they leave Splash Mountain, with Jessie by his side.
Related Product: Disney autograph book
Buzz Lightyear
Pixar Place isn't the only spot where you can find the space ranger. This famous Buzz also spends a lot of his free time in Tomorrowland near the exit of his very own ride.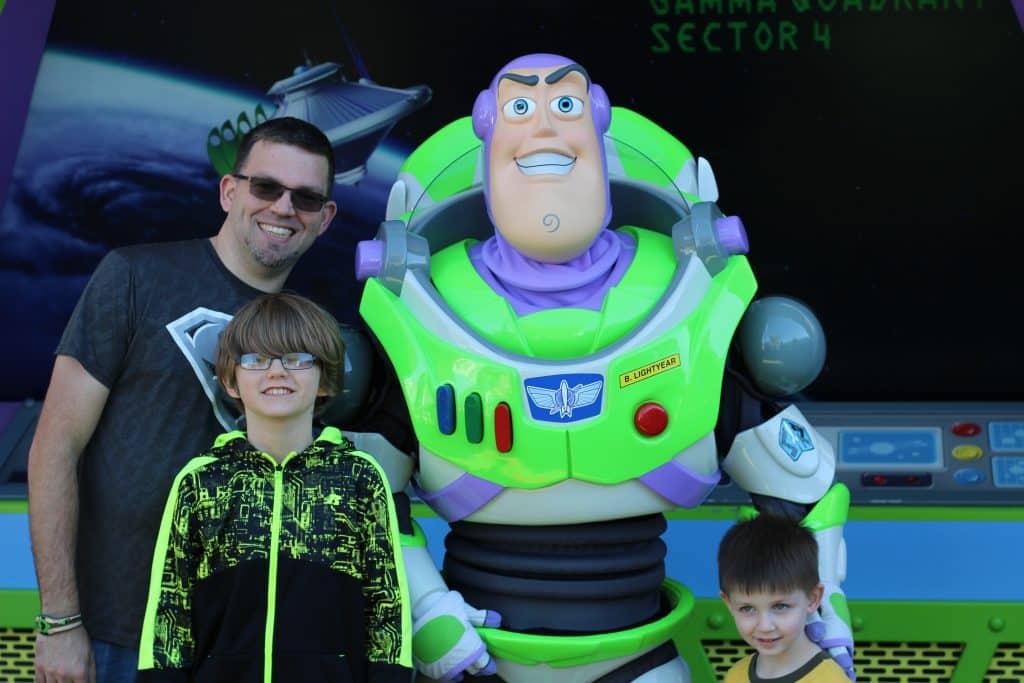 Belle
Looking for a character experience that goes beyond getting an autograph? Maurice's Cottage in Fantasyland is the place to be, where your kids join Belle for a fun story time treat.
Other Beauty and the Beast characters sign autographs as well. Scope out Gaston near his tavern and keep an eye out for Beast inside his castle during dinner at Be Our Guest. And, that's not all; Belle and Beast can also be found by the waterside in the France section of world showcase.
Peter Pan
Peter Pan loves to hang out near his ride along with his good friend Wendy Darling. Look for Tinkerbell in her Magical Nook in Adventureland. If you're autograph lovers feel brave and daring they can even meet up with Captain Hook and Mr. Smee, who are often trading tales with Captain Jack Sparrow outside the Pirates of the Caribbean ride.
Here's a great tip! Have a Sharpie handy when it's time to get autographs. This is extremely helpful to characters who wear bulky head gear as part of their costumes. It can make all the difference between an illegible scribbled blob and an autograph to be proud of. Your kids will love you for it!
Related posts: 
Best Tips for Traveling to Disney With Toddlers
Disney World Hacks You Have to Try!
4 Fun Ways To Reveal A Surprise Disney Trip