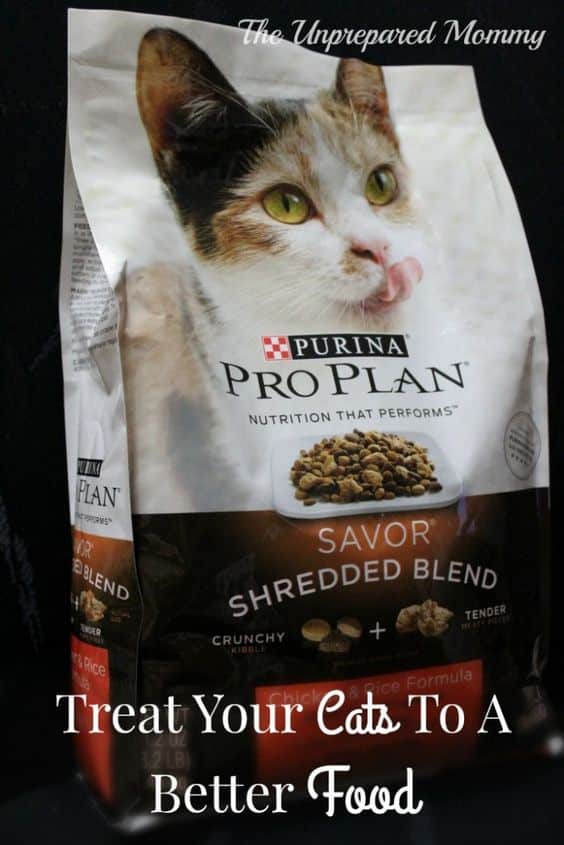 We have four cats, a dog, and a toddler running around this house. Three of the cats are male and have all experienced urinary tract infections which has forced us to put them on a prescription diet that is quite expensive. Therefore, we are trying to reduce their stronghold on our cash flow by feeding the lone female, Artemis, something other than the fancy schmancy food. After trying a few other brands, we have come to realize that she really loves Purina Pro Plan Shredded Blend the most.
The Shredded Blend is different than most dry cat food because it combines crunchy bits with yummy shredded pieces for a savory experience. Chicken is the #1 ingredient and contains 40% high-quality protein overall to make sure your kitties meet their dietary requirements. I also really like that it has Vitamin A and omega-6 fatty acids for a healthy coat and skin because Artemis already has issues with dry, itchy skin. She also benefits from the chicory root as fiber since she likes to give back her food on occasion.
Judging by the over 20,000 (yes, that is the correct number of zeros) reviews, I would say that I am not the only pet owner who found their cat absolutely loved the food. Take a look at the before and after of one of the times that she ate the food.
The two types of food are easily distinguishable, so you can see there really is a blend and not just some marketing scheme to make you think they changed the food. I realize that, for most of you, there doesn't appear to be a huge difference in the amount of nutritious cat food between the two. But the cats eat multiple times a day, so she isn't going to scarf down everything in the bowl. I CAN say she spent a very long time eating the Purina Pro Plan Cat food. And you can see the bottom of the bowl, which in cat language means the bowl is now empty.
Here is Her Royal Highness enjoying the Purina Pro Plan Cat Shredded Blend to her heart's content. I know that she prefers to eat canned cat food over the dry, so I wasn't surprised to see that she enjoyed the tasty tender pieces.
I know that the people at Purina really understand how much we love our pets and want to give them the very best. All of the ingredients in their food are put there to provide the best nutritional value as well as making it taste great. Purina Pro Plan Cat Shredded Blend takes that motto to the next level.