Is there truly ever a bad time of the year to visit Disney World? The honest answer is no, but that doesn't mean that there aren't more "appealing" times to visit for some, rather than others. Depending on what type of seasonal weather you prefer, visiting Disney World in the Fall may be a great way to beat the heat AND the crowds! If you've been contemplating on what season to take the trip to Disney World, here are 5 Reasons to visit Disney World in the Fall!
5 Reasons to Visit Disney World in the Fall
The weather is a bit more pleasant. Disney World during the summer months is so hot! While it's 100% worth it, those summer temps can be quite a beast to battle when walking all over the place and standing in line, patiently waiting. Summer is peak season because the kids are out of school. Even with having a Fastpass, expect to wait extra time during the summer. If you can just wait a few more months and get into that cooler weather, you'll find that your trip to Disney will be a bit more bearable and easier to be a tad less sweaty.

It's perfect camping weather! Families from all over the world love to go to Disney and visit for several days at a time. Part of the planning includes trying to find a hotel that can accommodate them and their needs, while also not being located far away from Disney. If the hotels aren't an option, consider camping at Fort Wilderness! It's close to the park, it's themed for that "Disney" feel, and it's a great way to enjoy the beauty of nature in nice, cool weather! Plus, fall camping typically also means no bugs! (or a lot less of them!) Double bonus for sure!

Disney rocks at decorating for Halloween. Depending on when you plan to take a trip during the Fall months, you and your family may arrive in time for all their fun Halloween decorations. Even better, you can plan accordingly and participate in Mickey's Not So Scary Halloween Party on select evenings from mid-August to Halloween. During the Halloween fun, adults and children can dress up and show off their favorite characters! 

Specials are often offered during the Fall (and winter) seasons. Disney is always crowded, but during the Fall months, the crowd may start to dwindle a bit with everyone heading back to school and summer vacations over and done with. To keep that crowd moving, Disney has been known to offer some amazing specials for their Fall visitors. Dining deals are among one of the top offers that tend to pop up during this time. While no specials are ever guaranteed, it's always a great idea to follow along and check in to see what the Fall specials are. They're typically so good, that you'll have to act quickly to get it!

Fewer people attend the park during the Fall months. Being able to visit Disney at a time when it's not so crowded is a good thing! The fewer the people that you and your family will have to battle with, the better. Less time spent standing in lines for food, drinks, rides and the bathroom means more time spent doing all the fun things that you're actually there to do! 
This post is sponsored by Hawthorn Suites by Wyndham Kissimmee Gateway, but my opinion is 100% my own.
If camping is not your style and you want to stay at a hotel close to the parks, but without the Disney price tag, look no further than Hawthorn Suites by Wyndham Kissimmee Gateway.
Our room was a 1 bedroom suite with two queen beds and a pull-out sofa. Which meant we each had our own bed to sleep in. And they were quite comfortable.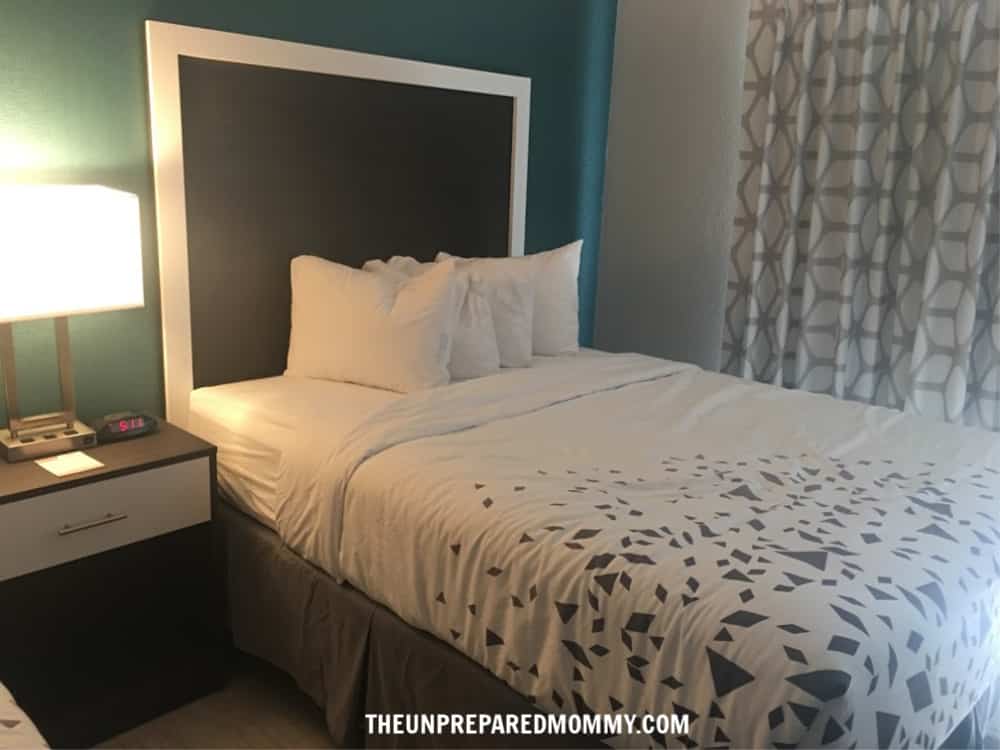 I liked that there was a long hallway separating the living room from the bedroom. That way we didn't have to worry about waking Ethan while we were still up and about. And it gave him a place to play with his cars.
They offered a free breakfast that was better than more free breakfasts I have had. They offered pastries, bagels, and cereal, as well as hot items like eggs, corned beef hash (which I had seconds of) and sausage links. Oh and there were 2 waffle makers to make small and large Mickey-head shaped waffles.
The drive to Hollywood Studios took about 10 minutes, which was great. Overall, it was a wonderful stay and we will be staying there again when we visit Disney World in December.
Visiting Disney World during the Fall is a truly beautiful time. The decorations throughout the park are amazing, and the park employees do a perfect job of transitioning them from Fall decor, to Halloween decor, and then even onto Christmas. If you've ever wanted to visit Disney during a few cooler months of the year, where the crowds are less and you'll potentially have much better odds of enjoying more rides and amenities, then planning a family trip for the Fall months is perfect. Plan ahead and start keeping your eyes peeled for specials now, because they are going to start popping up! Saving a few bucks when planning out your Disney trip just means that you'll have more money to spend on other things in and around the park!